DON'T FORGET THE PHOTO PAGE!

Last Update - April 25, 2009

Welcome to My Chevelle and El Camino Home Page

This Web site features some cars I own now, some I used to own, and and occasionally a friends or one I just like. I occasionally add one to my collection but rarely subtract one. My wife would like to see me get rid of 1 or 2 but so far I'm holding the line. Will have to add a big garage to my collection soon though!

This web site started on Valentines Day 2001 is more of a way to document what I call my obsession, (it started out as a hobby). I work on it when time permits, but there is never enough time and this never gets completely finished.

I'm not a wealth of information nor do I have anything profound to say, but if you have any questions about a road I've been down before and I can help in any way, please feel free to ask.

My Cars

(Only cars I have left is the 67 and perhaps the coolest one yet, a 71 Coupe I'm building. Watch for photo's!)



67 Malibu - Second owner car, (my brother knew the original owner). Bought and built this car for my wife, thats my story and I'm sticking to it. Original owner had it parked for 10 years while he restored it but only got the interior partially done and the engine and tranny rebuilt. Before that he drove it daily since new. Took it to my brother's body shop in Spokane where they tore it down and stripped the paint off everything and did the metal repair's right. After two and a half years I finally got it painted last fall, (2001), and got it back to Seattle for re-assembly. First show was the El Camino Classic's show in Snohomish in May 2002. I opted to get rid of the Malibu trim and go with SS trim but I left the Malibu emblems so I didn't have to explain anything. It's got a 283 with headers, Edelbrock intake and 4-barrel carb, HEI and a Powerglide tranny. Going to put a TH350 in it this winter to make it alittle nicer to cruise in. I'm reusing as many parts as I can to save money and am only investing in new parts on the items that can't be changed out easily down the road. There are several items I would like to change but this project is going way over budget. I've already had to sell my red 72 to get it this far!

70 Chevelle - This one has "SS" badges on it, (for "Super Sweet"), but it started out as a Malibu. It was a Canadian built car and I'm waiting for the build info from GM of Canada. I do know nothing about is like when it was new. It's painted a PPG Candy Radiant Orange Glow with Pearl White stripes and has a Pearl White bucket interior. It's got a moderately built 350, a Turbo 350 with a racing shift kit, headers, mandrel bent 2 1/2" exhaust, (sounds goooood!), and a 12 bolt. It's got 2" dropped spindles and shorter springs with 17x8 Torq Thrust II's and 45 series tires. The engine compartment has chrome inner fenders, heater box, brake booster and fan shroud as well as alot of the engine. Will add a picture of it soon. Was honored at the Northwest Regionals this year with trophy's for Best Paint, 1st Place for 70, and Best of Show.

71 El Camino - Built for my daily driver so I could enjoy my hobby on a daily basis, but it came out so nice I'm afraid to drive it. Went with a brighter silver than stock and removed all the emblem's and tail gate molding's for a custom look. Put a gray leather Caddy seat in it and redid the whole interior in gray with cut pile carpeting. Am very proud of it and have won a 1st and a 2nd place trophy for it, but the day is drawing close when I will have to drive it everyday. It's got a new slightly built 350/350 in it with headers, Edelbrock carb and manifold, HEI, and nice sounding dual exhaust. Just had a custom hidden trailer hitch put on it so I don't to haul anything in the bed of the Elky.

72 Sport Sedan - Chevrolet marketed the 4-door hardtop as a Sport Sedan even though sedan's are usually post cars. You don't see many 4-doors around and most of them you do are post models. The Sport Sedan has a slightly different roof line that in my opinion is just as attractive as the 2-door hardtop. I found this original 84K mile car from a guy that was going to part it out because he thought no one would want a 4-door. I didn't know I wanted one but I bought it to re-sell to someone who would keep it whole. As I was cleaning it up I realized how nice it was and how little rust it had. One thing led to another and I finally found someone to keep it whole....ME! Decided to have some fun with it and completely stripped it, removed the Malibu trim, put a new vinyl top on it, a cowl hood, SS trim, (for Sport Sedan), painted it the original Mulsanne Blue with white SS stripes, and put original 72 SS wheels on it. Put the 350 I had in my Elky in it and am keeping it stock with A/C and all. Will have it up and running at the El Camino's Classic show in May 2003.

79 Malibu - Actually built for my son but he's gone import on me, where did I go wrong. Just a neat car I put a low mile 305 and Turbo 350 in, a cowl hood, and new paint. I thought it came out really nice and am really proud of it. I would love to keep it drive it myself but I don't have space or money for it. If you know anyone interested in it, let me know!




Please Contact Me If You Like At Jeffry72@hughes.net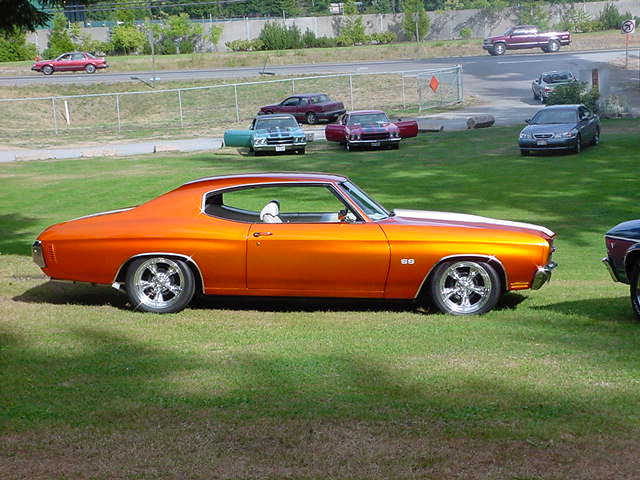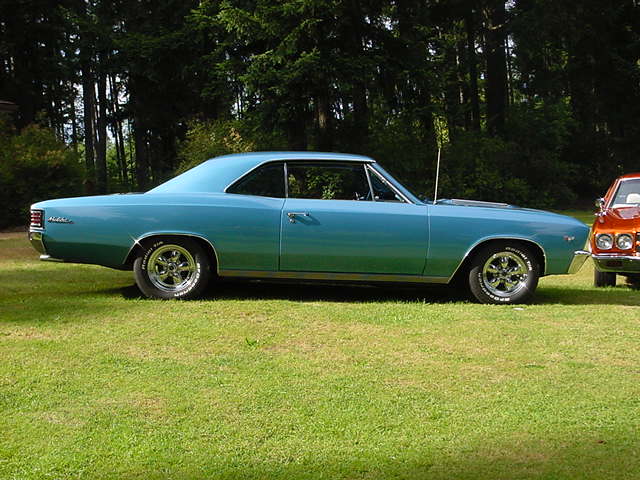 DEDICATED TO MY BROTHERS, DON AND GARY

I have to attempt to find the words to thank my brother Gary, not only for all the work and trials associated with helping me, but for the inspiration, friendship, and patience. It falls way short of what I feel, but thank you Gary!